Great news: Bernie Walsh and Tom Riche won the Village Council election last night
Ridgewood residents overwhelmingly elected the two candidates who had pledged to preserve Graydon. They will take office July 1.
Tom and Bernie expressed heartfelt thanks to all members of our Coalition who wrote letters to the editor, solicited votes, distributed flyers, spread the word on the internet, and—most important—voted.
Our attorney Stuart Lieberman responded via BlackBerry at 3:15 AM to our report of the election results: "Omg! You guys rock. Go democracy. Congrats."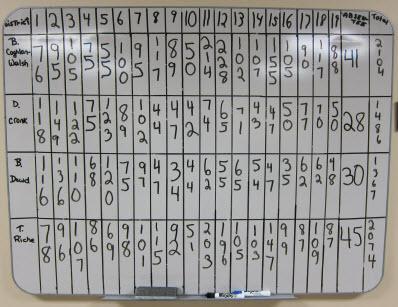 Here's the scoreboard on the wall in the Senior Center at Village Hall where the candidates gathered to learn the election results as they came in. The numbers across the top represent voting districts.
The newly elected Council members and their supporters, including Marcia, Suzanne, and Alan, headed for an impromptu celebration at Bernie and Mike Walsh's house. Also of our group, Eileen Negrycz gave Bernie a bouquet and Tim Collazzi and Danny Castellanos arrived later. Other guests included outgoing Councilman Pat Mancuso and former Council members Quentin Wiest and Jacques Harlow as well as friends and family.
How you can celebrate: Buy Graydon badges for your family. Ridgewood residents (ages 2-61) pay last year's prices through May 22. Ridgewood seniors age 62+ pay $15. Ho-Ho-Kus and Midland Park residents also welcome.
Residents of additional towns may join if sponsored by a Ridgewood resident with a current badge. Information: 201-670-5560.
The Parks & Recreation Department is holding its first-ever special Graydon badge senior signup tomorrow (Thursday, May 13) from 9:30 AM to 12:30 PM on the first floor of Village Hall. Every Ridgewood resident age 62+ is encouraged to come buy a badge. Cash, check, or Visa or MasterCard accepted.
For free door-to-door transportation for the badge day, reserve a ride on the Senior Bus at 201-670-5500 x200. Call today (Wednesday) for a ride on Thursday.