Tuesday is Election Day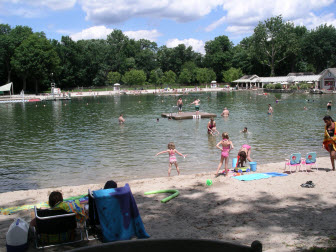 We know that Graydon is not the only issue. But it is a significant and symbolic one. Graydon is the heart of the Village, both literally and figuratively. Yet some wish to rip it out and pave it over.
Important points to consider before pressing the button
* Flood hazard zone. Among the candidates, only Bernie and Tom understand the expense, danger, and recklessness of paving over a flood hazard area that repeatedly experiences severe flooding.
Residents who are relatively new to town cannot imagine the destruction that Ridgewood has already experienced from floods, including canoes down the streets and evacuations. They cannot fathom how much worse the situation could be without Graydon, our 3-million-gallon catch basin—now routinely emptied to make room for all the rain when big storms are predicted. Excess water also seeps down through the sand afterward. Those tons of water could end up in our neighbors' basements and worse.
DO NOT BELIEVE protestations that certain minds are open to improvements at Graydon of the type we envision. DO NOT BELIEVE that a Request for Proposals (RFP) would merely invite "new ideas"—it's a contract document for a big construction job.
Electing the other candidates would be Graydon's death knell.
• Fiscal restraint. Bernie and Tom know that taking out additional large bonds could compromise Ridgewood's ability to borrow. They urge financial caution.
• Independent thinkers. The other two candidates could form a three-vote majority with a like-minded sitting council member.
• Homegrown campaigns. No huge donations. No expensive political consulting agency. No multiple mailings of glossy flyers. No ten million yard signs on unoccupied property. Just the candidates.
Village Council elections have low turnout. Make sure every registered voter in your household visits the polls between 6 AM and 8 PM.

RIDGEWOOD IS COUNTING ON YOU TO DO THE RIGHT THING.
VOTE FOR COGHLAN-WALSH AND RICHE.
x Line 1: Bernadette Coghlan-Walsh
Line 2: [ignore]
Line 3: [ignore]
x Line 4: Thomas M. Riche